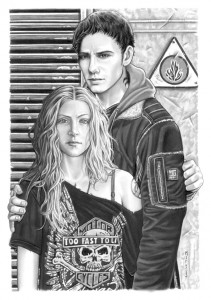 Wie schon im letzten Eintrag erwähnt, habe ich vor nicht all zu langer Zeit mein Fangirl-Herz entdeckt. Als ich so 15 – 16 war habe ich mich bewusst gegen alles gesperrt, was für meine Altersklasse konzipiert war (ich habe Shakespeare und Tolkien gelesen – Der Herr der Ringe war damals noch nicht gerade in – und habe vor allem die Doors gehört; rückblickend also dann doch wieder irgendwie typisch für das Alter :-) ). Aber jetzt da ich erwachsen bin, muss ich in der Hinsicht gegen nichts mehr rebellieren und kann in aller Ruhe und Freude Jugendbücher lesen! :-)
Die Divergent-Reihe (oder im Deutschen: Die Bestimmung) von Veronica Roth rangiert aktuell etwa auf  Platz 4 meiner Lieblings-Jugendbücher. Im Oktober wird Teil 3 der Reihe Allegiant erscheinen und ich bin entsprechend voll der Vorfreude. Eine Verfilmung zu Band 1 ist auch in der Mache. Aber Filme zu Büchern, die ich mag, schaue ich eigentlich nicht (Ausnahmen waren die Herr der Ringe-/Hobbit-Verfilmungen, die ich extrem grottig finde und der Hunger Games– Film, der mir überraschenderweise richtig gut gefallen hat). Als Weibchen hat es  mir natürlich der männliche Hauptcharakter Four besonders angetan. ;-) Auf beiden meiner Bilder seht ihr eben jenen mit dem weiblichen Hauptcharakter Tris.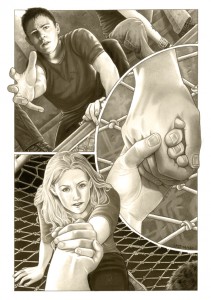 Deshalb freut es mich extrem, dass First touch of fire den Divergent-Fans scene contest auf deviantART gewonnen hat! Ein dickes DANKE dafür! :-) Ich fühle mich geehrt!
————And now in english, please!———–
I love to read young adults books! These days on place 4 of my favourite books of this category, is the Divergent-series by Veronica Roth. As a female I mostly like the male main-charakter Four. :-) On both pics you can see him with the female main charakter Tris.
An so it´s a great pleasure for me, that First touch of fire has won the Divergent-Fans scene contest on deviantART. I´m really honored! So thank you so much!!!!