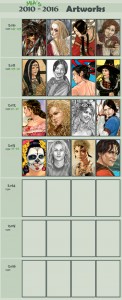 2010 bis heute! Die Farbe ist zurück und 2012 habe ich mein Fangirl-Herz entdeckt! :-)
Das heißt, seither gibt es von mir immer wieder private Illustrationen zu Büchern, die mir gut gefallen (und weitere werden folgen! :-)). Auf diesen Punkt werde ich beizeiten bestimmt nochmal genauer eingehen. Außerdem war ich, nach einer einjährigen Pause,  ebenfalls 2012 zurück bei DSA!
————–And now in english, please!—————
2010 till today! The colour is back and in 2012 I found my fangirl-heart, so I did some private illustrations for books I like. More about this in time.