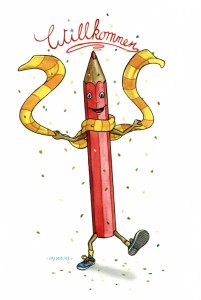 Herzlich Willkommen zu meinem brandneuen Blog! :D
Nachdem meine Homepage wieder mal über fast unvertretbar lange Zeiten unaktualisiert brach liegt, habe ich mich nun zu diesem wunderbar flexiblen Schritt entschlossen!
Seit geraumer Zeit habe ich ja schon meine eigene deviantART Seite, aber ein eigener Blog ist doch etwas viel Persönlicheres und birgt auch vielfältigere Möglichkeiten euch auf dem Laufenden zu halten, was meine aktuellen Projekte, Veröffentlichungen, usw. angeht.
Ich verspreche mich fleißig um den Blog zu kümmern, hier und da eine Rezension einzustreuen, damit keine Langeweile aufkommt und ihr immer was zu gucken/lesen habt. :-)
So werdet ihr hier in diesem Jahr auch meinen Adventskalender finden und wenn ich es schaffe, werde ich endlich mal die Kategorie "Werkstatt" mit Leben füllen, in der ich die ein oder andere Bildentstehung zu dokumentieren gedenke. :-)
Lange Rede, kurzer Sinn: viel Spaß beim Gucken und Träumen, wünscht euch
Eure Mia
————————————And now in english, please!————————————
Hi there,
yeah, now I have a Blog, too! :D
I guess it´s the perfect medium to keep you in loop about my work, my projects and my publications. I hope you´ll have a good time reading my dues and watching my art. :-)
Wish you fun!
Yours Mia