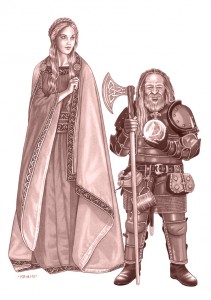 Aktuell habe ich meine Arbeit für Robert M. Talmars Fantasy-Zyklus Gilwenzeit abgeschlossen.
Der erste Band Der vergessene Turm, kommt am 11. Oktober 13 in den Handel, der zweite  Der verlorene Brief, am 22. November 13. Die Reihe  erscheint bei Bastei Lübbe.
Ich habe acht Archetypen für die Kulturen der Romanwelt Kringerde entworfen/gezeichnet. Hier seht ihr eine Arendir und einen Gidwargum – eine Art Zwerg ;-) – mit einer der namensgebenden Gilwen.
Weitere Archetypen findet ihr auf meiner deviantART-Seite. :-)
————And now in english, please!————–
I´ve just finished my work for Robert M. Talmar´s fantasy novel  series Gilwenzeit. The first book Der vergessene Turm will be available (in Germany) on 11. October 13, the second Der verlorene Brief  on 22. November 13. The novels will be published by Bastei Lübbe.
I´ve done eight cultural character designs. Here you can see an Arendir and a Gidwargum – wich is a kind of dwarf :-) – with one of the name giving Gilwes.
Other character examples you can find on my deviantArt page!