Another wonderful private order! This time from the world of Forbidden Lands. The Swedish low-fantasy setting was unknown to me until this point. However, that doesn't mean anything, because I'm rather a careless wanderer in the many roleplaying worlds. Anyway, you can read more about the character Zhadel below, played by Sebastian Spautz.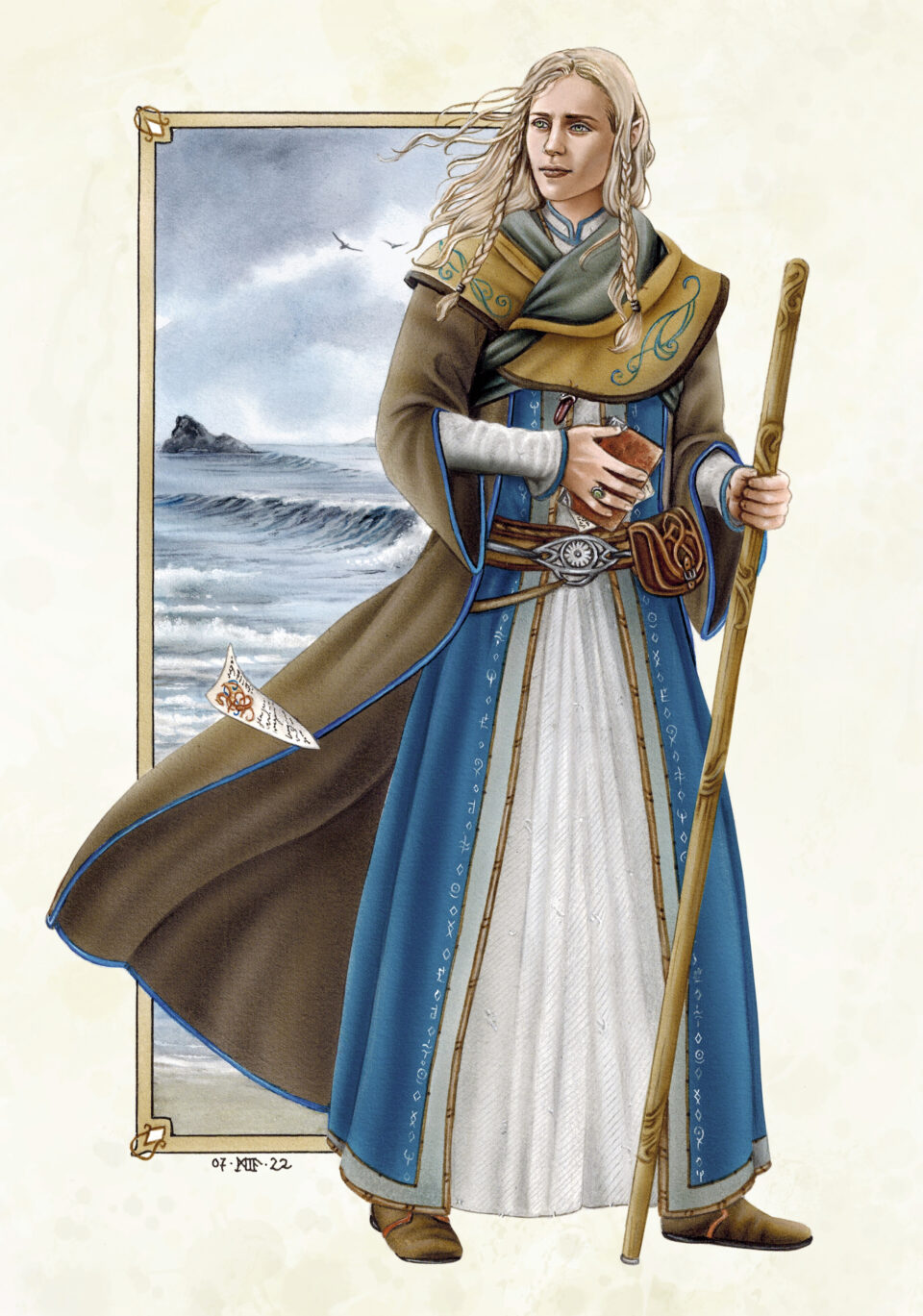 ---
"Zhadel! Komm zurück ins Hier und Jetzt!" Zirda starrte fassungslos auf den Herd. In dem kleinen Topf hatte sich das Abendessen zu einer festen, verschmorten Maße verwandelt und der unbeachtet darin steckende hölzerne Kochlöffel war kurz davor in Flammen aufzugehen.

Der angesprochene junge Mann stand davor, sein Blick richtete sich verträumt in weite Ferne. Jedwede Flüssigkeit im Topf hatte sich auf magische Weise über Zhadels Hand zu einer Kugel geformt, in deren Inneren man zart die Vision eines märchenhaften Gartens ausmachen konnte.

Aus: Ein Leben in den verbotenen Landen
---
Zhadel ist ein, jedenfalls für Halbelfen, junger Zauberer. Er träumte schon früh davon, die Hinterlassenschaften der Elfen aus der Vorzeit zu erkunden. Dieser Wunsch trieb ihn irgendwann dazu, seiner Lehrmeisterin zu entfliehen und die Welt zu bereisen.
Dabei traf er, zu seinem Glück, auf andere wohlmeinende Leute, einen Zwerg, zwei Goblins und eine diebische Elster, mit denen er seitdem nach magischen Phänomenen und historischen Stätten sucht (die Anderen suchen eher etwas Monetäres, aber das ficht Zhadel nicht an). Ohne seine neuen Bekannten wäre er auch verloren in dieser bösen Welt. Weltfremd, gutgläubig und unerfahren in den Belangen der Welt, wäre er sonst vermutlich schnell in einem Kerker der Rostbrüder gelandet, die die Magie für sich alleine beanspruchen.
Seine ganze bisherige Lebensgeschichte und seine Abenteuer könnt ihr nachlesen in Ein Leben in den Verbotenen Landen.