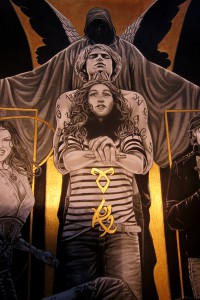 ANTONIO:
Will you stay no longer? Nor will you not that I go with you?
SEBASTIAN:
By your patience, no. My stars shine darkly over me; the malignancy of my fate might, perhaps, distemper yours; therefore I shall crave of you yours leave that I may bear my evils alone. It were a bad recompense for your love to lay any of them on you.
Aus: William Shakespeare, Twelfth Night
Fanart zu Cassandra Clares The Mortal Instruments. Beim ersten Anlauf, auf Deutsch, habe ich das erste Buch nach ein paar Seiten wieder weg gelegt, weil ich es so grässlich fand. Beim nächsten Versuch, auf Englisch, war ich sehr angetan und habe die Reihe bis zum Schluss (der mich leider etwas enttäuscht hat) verfolgt. Das typische Problem von Original und Übersetzung.
Den Film zu Band eins habe ich mir nicht angeschaut, da ich befürchte, ihn so ganz und gar nicht zu mögen.
Die Inspiration zum Stil des Bildes, schwarzweiß und Gold, kommt von dem großartigen Künstler Yoann Lossel. :-) Leider kommt das Gold im Scan nicht so ideal zur Geltung und Bleistift ist auch nicht gerade die perfekte Kombi mit dem Gold. Schade. Dennoch bin ich recht zufrieden. :-)
Und wer sich hier über Shakespeare wundert: Das genannte Zitat läutet Teil zwei des dritten Buches City of Glass ein. Daher auch der Titel meines Bildes. :-)