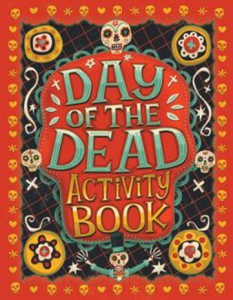 Um auch hier einen Hauch der mexikanischen Feiertage der Los dios de muertos (laut Wikipedia vom 31. Oktober bis zum 2. November) zu verspüren, habe ich mir das Day of the Dead Activity Book besorgt, das mit wunderbaren Illustrationen von Steve Simpson versehen ist.
Einen Tag lang drehte sich bei mir alles darum Toten(kopf)masken (die es in zweifacher Ausführung im Pappvordruck gibt) zu bemalen, einen kleinen Pappaltar zusammen zu basteln (die Einzelteile sind aus dem Buch einfach heraus zu lösen) und Entwürfe für entsprechende Gesichtsbemalungen zu üben. Also ich hatte großen Spaß und kann allen nerdigen Bastelfreunden mit Hang zum Morbiden nur empfehlen sich ebenfalls noch flugs dieses tolle Buch zu besorgen, bevor es mit den Feiertagen los geht!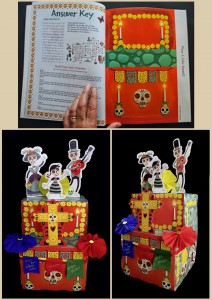 In diesem Sinne: Bastelt (oder backt, denn Rezepte für Totenkopf- und Grabsteinplätzchen sind ebenfalls im Buch enthalten) schön und gedenkt (damit) eurer Toten!
Eure Mia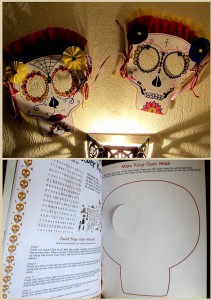 PS: Noch ein Tipp zu den Masken: der Karton ist hochglanzimprägniert, so dass er nur sehr schwer zu bemalen ist (ich habe Acrylfarben benutzt und selbst das war nicht wirklich ideal). Ich würde eher dazu raten, die Rückseite zu nehmen, die eine rauhe Pappoberfläche hat, auf der eigentlich so gut wie alle Farben halten müssten.